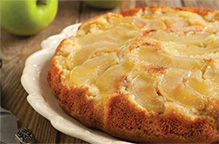 Caramel Apple Upside-Down Skillet Cake
½ cup chopped pecans
2 large Granny Smith apples, peeled and cut into
½-inch-thick slices
1 tablespoon lemon juice
2 teaspoons vanilla extract, divided
¾ teaspoon ground cinnamon, divided
½ cup butter, softened and divided
2 teaspoons brandy or brandy flavoring
1 cup firmly packed light brown sugar
¾ cup granulated sugar, divided
2 large eggs, separated
¾ cup milk
½ cup sour cream
2 cups all-purpose baking mix
1/8 teaspoon ground nutmeg
Instructions
Preheat oven to 350°F. Bake pecans in a single layer in the 9 ½" Gotham skillet for 8 to 10 minutes to toast, stirring after 5 minutes. Remove and increase oven temp. to 375°F.
Toss apple slices with lemon juice, 1 tsp. vanilla extract, and ½ tsp. cinnamon.
Melt ¼ cup butter in the 11" Gotham skillet over low heat. Remove from heat; stir in brandy. Sprinkle with brown sugar. Sprinkle pecans over brown sugar mixture. Arrange apples in 2 circles over pecans.
Beat ½ cup granulated sugar and remaining ¼ cup butter at medium speed with an electric mixer until blended. Add egg yolks, one at a time, beating just until blended after each addition. Add milk, sour cream, and remaining 1 tsp. vanilla, beating just until blended.
Whisk together baking mix, nutmeg, and remaining ¼ tsp. cinnamon in a medium bowl.
Add nutmeg mixture to butter mixture, beating on low just until blended.
Beat egg whites in a large bowl at high speed until soft peaks form. Gradually beat in remaining ¼ cup granulated sugar until stiff peaks form. Fold into batter. Spread batter over apples in skillet.
Bake at 375°F for 50 to 54 minutes or until a wooden pick inserted halfway into center of cake comes out clean. Cool in skillet on a wire rack 10 minutes. Carefully run a knife around edge of cake to loosen. Invert cake onto a serving plate.
50+ Quick & Easy Recipes
Inspired by Celebrity Chef
Daniel Green
Quick & easy to make
No experience needed
Includes different desserts, dinners, lunches & quick snacks!