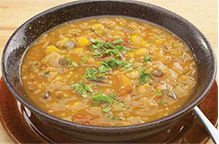 Apricot Lentil Soup
3 tablespoons olive oil
1 onion, chopped
2 cloves garlic, minced
1/3 cup dried apricots
1 ½ cups red lentils
5 cups chicken stock
3 tomatoes - peeled, seeded and chopped
½ teaspoon ground cumin
½ teaspoon dried thyme
salt and pepper to taste
2 tablespoons fresh lemon juice
Instructions
In large Gotham stock pot, sauté onion, garlic, and apricots in olive oil. Add lentils and stock. Bring to a boil, then reduce heat and simmer 30 minutes.
Stir in tomatoes, and season with cumin, thyme, and salt and pepper to taste.
Simmer for 10 minutes.
Stir in lemon juice. Puree ½ of the soup in a blender, then return to the pot. Serve.
50+ Quick & Easy Recipes
Inspired by Celebrity Chef
Daniel Green
Quick & easy to make
No experience needed
Includes different desserts, dinners, lunches & quick snacks!