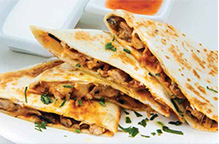 Barbecue Chicken Quesadillas
Ingredients:
½ pound cooked and shredded
chicken breast or thighs
½ cup barbecue sauce
¼ cup chopped fresh cilantro
5 green onions, minced
8 (6-inch) flour tortillas
1 cup shredded Mexican cheese blend
or sharp Cheddar
2 tablespoons butter or margarine, softened
Toppings: sour cream, sliced green onions,
guacamole (see recipe on right)
Garnish: fresh cilantro sprig
Guacamole recipe:
2 ripe avocados
juice of 1 lime
salt, pepper, chili seasoning to taste
Optional: chopped tomatoes and onions
Instructions
Stir together first 4 ingredients.
Spoon chicken mixture evenly on 1 side of each tortilla; sprinkle with cheese. Fold tortillas in half, pressing gently to seal. Spread butter on both sides of quesadillas.
Heat an 11" Gotham skillet over medium heat, and cook quesadillas 2 to 3 minutes on each side or until browned. Cut each quesadilla in half for main-dish servings or in quarters for appetizer servings. Serve with desired toppings. Garnish, if desired.
To make guacamole, mash the avocados, add the lime juice, salt, pepper and chili seasoning. Mix together. You may also add chopped tomatoes and onions.
50+ Quick & Easy Recipes
Inspired by Celebrity Chef
Daniel Green
Quick & easy to make
No experience needed
Includes different desserts, dinners, lunches & quick snacks!