OFFICIAL COOKWARE PARTNER OF

THE 2017 WORLD FOOD CHAMPIONSHIPS

Order Today And Get FREE SHIPPING On All Orders!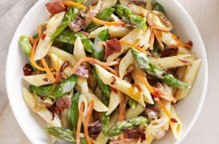 Creamy Bacon and Veggie Primavera
4 slices bacon, cut into 1" pieces
1 medium onion, diced
1 can (14-1/2 oz.) fat-free reduced-sodium chicken broth
1 cup water
2 cups uncooked elbow macaroni
4 cups cut-up mixed frozen vegetables
(ex. broccoli florets, cauliflower, sliced carrots, red pepper strips)
¼ cup cream cheese, cubed
2 Tablespoons grated Parmesan or Romano cheese
Instructions
Cook and stir bacon in the 10 ½" Gotham skillet on medium heat until crisp. Remove bacon from skillet with slotted spoon; drain on paper towels. Add onions to drippings in skillet; cook and stir 5 min. or until crisp-tender.
Add chicken broth, water and macaroni to skillet; stir. Bring to boil; cover. Simmer on medium-low heat 10 min. or until macaroni is tender.
Add vegetables and cream cheese; cook 5 to 6 min. or until cream cheese is completely melted and mixture is well blended and heated through, stirring frequently. Sprinkle with bacon and Parmesan
50+ Quick & Easy Recipes
Inspired by Celebrity Chef
Daniel Green
Quick & easy to make
No experience needed
Includes different desserts, dinners, lunches & quick snacks!
Sign up to learn about new products and special offers