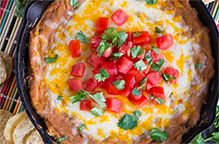 Skillet Bean and Cheese Dip
2 (8 ounce) tubes premade crescent roll dough (crescent roll sheets but you can use any kind)
8 ounces (½ can) Old El Paso refried beans
2 ounces (½ can) Old El Paso green chilies
4 ounces Mexican cheese blend
4 ounces goat cheese, crumbled
2 ounces salted butter, melted
1 teaspoon garlic pepper
1 teaspoon dried cilantro
chopped tomatoes and cilantro for garnish
Instructions
Preheat oven to 350°F.
Use the 12 ½" Gotham skillet.
On a floured surface, roll out crescent dough. Roll dough into 1½" balls and line the edge of the skillet with them.
On the inside of the skillet, surrounded by the dough balls, spoon out the bean dip and spread to fill the center.
Top the beans with the chilies and then cheeses.
Brush the dough with the melted butter and sprinkle with garlic pepper and cilantro.
Bake for 17−20 minutes or until cheese is fully melted and dough is cooked/beginning to brown.
Switch the oven to broil and allow to broil for about 5 minutes. Watch this step closely to make sure it doesn't burn. You want the rolls to brown and the cheese to bubble, but you don't want to char your bread! Remove from the oven and allow to cool for 5 minutes before serving. The bread and skillet will be very hot, so be careful!
Serve warm garnished with more cilantro and tomatoes. Enjoy!
50+ Quick & Easy Recipes
Inspired by Celebrity Chef
Daniel Green
Quick & easy to make
No experience needed
Includes different desserts, dinners, lunches & quick snacks!