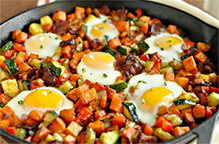 Chilly Weather Breakfast Skillet
3 cups frozen hash browns
¾ cup shredded Pepper Jack or Cheddar or Monterey Jack
1 and ½ cup chopped ham or Canadian bacon
4 large eggs
1 ½ cup whole milk (important to use whole)
¼ teaspoon salt
1/8 teaspoon black pepper
½ cup chopped green onions
½ cup chopped roasted red pepper
Instructions
Preheat the oven to 350°F.
Arrange hush browns evenly on the bottom of the 11" Gotham skillet. Sprinkle with cheese and ham.
In a medium bowl, whisk together eggs and milk. Add salt and pepper and whisk again.
Pour over the ham and potatoes.
Bake for 40 to 45 minutes until set.
Garnish with peppers and onions. Let stand for 5 minutes before serving.
50+ Quick & Easy Recipes
Inspired by Celebrity Chef
Daniel Green
Quick & easy to make
No experience needed
Includes different desserts, dinners, lunches & quick snacks!