OFFICIAL COOKWARE PARTNER OF

THE 2017 WORLD FOOD CHAMPIONSHIPS

Order Today And Get FREE SHIPPING On All Orders!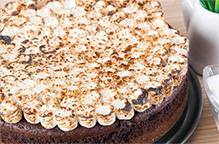 Skillet Brownie S'mores
One package brownie mix of choice
(make according to directions)
12 oz. package of milk chocolate chips
1 can of sweetened condensed milk
1 bag of marshmallows
1 package of graham crackers for dipping
Instructions
Preheat oven to 350°F.
Lightly butter 11" skillet.
Pour brownie mix in and spread evenly. Bake for 28 minutes or until set.
Remove from oven and set oven to 450°F.
Pour chocolate chips evenly on the brownie.
Pour sweetened condensed milk over chips, spread carefully with spatula.
Place marshmallows upright on top of mixture from inside out in circular pattern.
Place in preheated oven and bake 5-6 minutes and marshmallows are browned on top.
50+ Quick & Easy Recipes
Inspired by Celebrity Chef
Daniel Green
Quick & easy to make
No experience needed
Includes different desserts, dinners, lunches & quick snacks!
Sign up to learn about new products and special offers
STEP 2:
Review your order
Item
Quantity
Price
P&H
State Tax:
Estimated Order Total