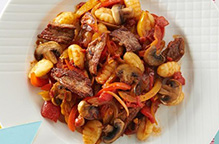 Calico Peppers, Beef and Gnocchi
2 tablespoons olive oil
1 pound flank steak, cut into strips
1 onion, thinly sliced
1 teaspoon minced garlic
1 package Cremini mushrooms, sliced
1 red bell pepper, cut into strips
1 yellow bell pepper, cut into strips
1 orange bell pepper, cut in strips
1 (14.4 ounce) can diced tomatoes
1 teaspoon smoked sweet paprika
1 (1 pound) package potato gnocchi
Instructions
Heat olive oil in the 12 ½" Gotham skillet over high heat. Add beef and cook until browned, about 2 minutes. Transfer the beef to a bowl and cover with plastic wrap to keep warm. Reserve the oil in the skillet.
Reduce heat to medium, then stir in the onion and garlic, and cook until transparent, about 5 minutes. Toss in the mushrooms, red, yellow, and orange peppers and cook until tender, another 5 minutes.
Stir in the tomatoes and paprika; bring to a boil over medium-high heat. Reduce heat to low and simmer until sauce thickens, about 5 minutes. Combine the beef with the tomato mixture and stir.
Meanwhile, bring a large pot of lightly salted water to a boil over high heat. Add gnocchi and cook until they float, 2 to 3 minutes. Drain, then toss the gnocchi in the sauce and serve.
50+ Quick & Easy Recipes
Inspired by Celebrity Chef
Daniel Green
Quick & easy to make
No experience needed
Includes different desserts, dinners, lunches & quick snacks!