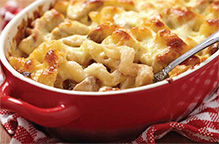 Cheesy Chicken Macaroni and Cheese
½ (16-oz.) package pasta
2 tablespoons butter
1 medium onion, diced
1 green bell pepper, diced
1 (10-oz.) can diced tomatoes and green chilies
1 (8-oz.) package cream cheese, cubed
3 cups chopped cooked chicken
1 (10 ¾-oz.) can cream of chicken soup
½ cup sour cream
1 teaspoon chili powder
½ teaspoon ground cumin
1 ½ cups (6 oz.) shredded Cheddar cheese
Instructions
Preheat oven to 350°F. Prepare pasta according to package directions to al dente.
Meanwhile, melt butter in a large deep skillet over medium-high heat. Add onion and bell pepper, and sauté 5 minutes or until tender. Stir in tomatoes and green chilies and cream cheese; cook, stirring constantly, until cheese melts. Stir in chicken, next 4 ingredients, and hot cooked pasta until blended. Sprinkle with shredded Cheddar cheese.
Bake uncovered at 350°F for 25 to 30 minutes or until bubbly.
50+ Quick & Easy Recipes
Inspired by Celebrity Chef
Daniel Green
Quick & easy to make
No experience needed
Includes different desserts, dinners, lunches & quick snacks!