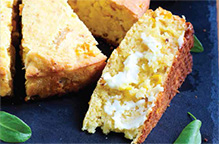 Easy Chicken Cornbread Skillet Dinner
½ cupped finely chopped onion
2 cloves garlic
1 can rinsed black beans
1 cup frozen or canned corned rinsed and drained
2 cups shredded chicken
1 cup enchilada sauce
2 teaspoons ground cumin
1 ½ cups shredded Monterey Jack cheese or Pepper Jack cheese
1 pkg. corn bread mix (make according to package directions)
Instructions
Preheat oven to 375°F.
Sauté onion and garlic in the 12 ½" Gotham skillet over medium heat.
Stir in chicken, beans, corn, enchilada sauce, cumin and 1 ½ cups of cheese.
Increase heat to medium/high and bring to a simmer.
Remove from heat and top with corn bread mixture.
Put skillet into pre-heated oven and bake 30 minutes until golden and bubbly.
Let cool 10 minutes, cut and serve.
50+ Quick & Easy Recipes
Inspired by Celebrity Chef
Daniel Green
Quick & easy to make
No experience needed
Includes different desserts, dinners, lunches & quick snacks!