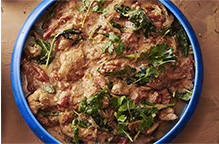 Chicken Korma Skillet Bake
1 tablespoon vegetable oil
4 (2 inch) cinnamon sticks
10 whole cloves
10 cardamom seeds
1 onion, thinly sliced
2 cloves garlic, minced
2 (6 ounce) skinless, boneless chicken breast halves
½ teaspoon salt
½ teaspoon crushed red pepper flakes
½ teaspoon ground coriander
½ teaspoon ground cumin
½ cup tomato sauce
½ cup warm water
½ cup buttermilk
2 tablespoons chopped fresh parsley
Instructions
In a 12 ½" Gotham skillet, heat oil over medium heat. Cook cinnamon sticks, cloves, and cardamom seeds in hot oil for three minutes. Stir in onion and garlic, and cook until soft. Cut each chicken breast half into 4 pieces, and add to skillet; cook for about 5 to 8 minutes.
Season with salt, red pepper flakes, coriander, and cumin. Stir in the tomato sauce and water. Continue cooking for 10 minutes.
Stir in buttermilk, and cook for 5 to 8 minutes. Just before serving, mix in the parsley.
50+ Quick & Easy Recipes
Inspired by Celebrity Chef
Daniel Green
Quick & easy to make
No experience needed
Includes different desserts, dinners, lunches & quick snacks!