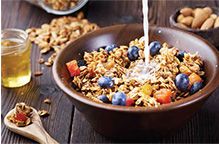 Maple Nut Skillet Granola
3 tablespoons butter
3 tablespoons maple syrup
½ cup chopped pecans, walnuts or almonds
2 tablespoons (packed) brown sugar
1 ¼ teaspoon ground cinnamon
½ teaspoon salt
2 cups old-fashioned rolled oats
Instructions
In nonstick 12 ½" Gotham skillet, place butter into syrup and melt over medium heat.
Add next 3 ingredients and ½ tsp. salt.
Cook, stirring, 2 minutes.
Add oats and cook, stirring, until golden, 5 minutes.
Transfer to baking sheet to cool.
Store in airtight containers.
50+ Quick & Easy Recipes
Inspired by Celebrity Chef
Daniel Green
Quick & easy to make
No experience needed
Includes different desserts, dinners, lunches & quick snacks!