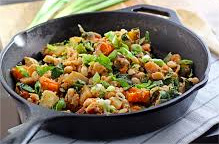 Greens and Beans Hash
1 large russet potato, scrubbed and diced
2 tablespoons olive oil
¼ cup shallots, thinly sliced
4 garlic cloves, minced
1 can white beans, drained and rinsed
3 cups escarole, sliced into thin ribbons
1 lemon, zested
¼ cup Parmesan cheese, shredded *Omit if vegan
Kosher salt and black pepper to taste
Optional – add crushed red pepper flakes to taste
Instructions
Drizzle oil in a 12 ½" skillet over medium-high heat. Add the potatoes and a generous pinch of Kosher salt, toss well to coat. Cover the skillet with a tight fitting lid and cook for 7–9 minutes, tossing or flipping occasionally to ensure that all sides of the potatoes are browning and getting crisp. Remove to bowl.
Add the onions, garlic and the white beans to the skillet. Cook for 3–5 minutes, flipping once or twice, to ensure that the beans are browning and getting crisp. Add to potatoes in bowl.
Add the ribbons of escarole and cook briefly until it wilts. Add mix well the potatoes and bean mixture. Cook 5 minutes to incorporate tastes.
Remove from the heat and sprinkle in lemon zest, black pepper, red pepper flakes, and additional salt to taste. Serve immediately.
50+ Quick & Easy Recipes
Inspired by Celebrity Chef
Daniel Green
Quick & easy to make
No experience needed
Includes different desserts, dinners, lunches & quick snacks!