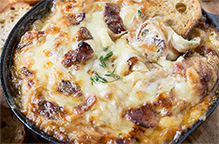 Gruyere, Bacon and Caramelized Onion Spread
3 ½ cups chopped onion
1 tablespoon each of butter and olive oil
2 ounces Gruyère cheese, shredded and divided
2 tablespoons chopped fresh chives, divided
1/3 cup canola mayonnaise
1/3 cup fat-free sour cream
¼ teaspoon salt
¼ teaspoon black pepper
3 bacon slices, cooked and crumbled
Instructions
Preheat oven to 425°F.
Heat the 11" Gotham skillet over medium-high heat. Add the oil and butter. Add onion to pan; sauté 5 minutes, stirring frequently. Reduce heat to low; cook 20 minutes or until golden brown, stirring occasionally. Cool slightly.
Reserve 2 tablespoons cheese. Combine remaining cheese, with the caramelized onion, add 1 tablespoon chives, and the remaining ingredients to the skillet.
Sprinkle with reserved 2 tablespoons cheese. Bake at 425°F for 20 minutes or until browned and bubbly. Sprinkle with remaining 1 tablespoon chives.
50+ Quick & Easy Recipes
Inspired by Celebrity Chef
Daniel Green
Quick & easy to make
No experience needed
Includes different desserts, dinners, lunches & quick snacks!