OFFICIAL COOKWARE PARTNER OF

THE 2017 WORLD FOOD CHAMPIONSHIPS

Order Today And Get FREE SHIPPING On All Orders!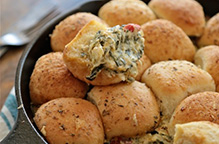 Hot Red Pepper and Garlic Roll Dip
1 package (9 rolls) frozen garlic Parmesan dinner rolls, thawed and each roll cut in half
1 package frozen spinach, thawed and squeezed of excess water
1 can artichokes in brine, drained and chopped
½ cup chopped roasted red pepper
2 cloves garlic, minced
1 8-oz pkg. cream cheese, softened
1 cup sour cream or plain Greek yogurt
1 cup shredded Asiago cheese
1 cup shredded Parmesan cheese
Instructions
Preheat oven to 350°F.
In the middle of your 11" Gotham skillet - whisk together cream cheese and sour cream until smooth. Break apart drained spinach, artichokes, roasted red pepper, garlic and shredded cheeses. Stir together until combined.
Bake the dip for 15 minutes, until bubbly. While the dip is baking, cut the thawed rolls in half. When the dip is done, remove from oven and place the rolls cut side down on top of the dip. Place the dip back in the oven and continue to bake until the rolls are baked through and golden brown on top. Approximately 15 – 20 minutes.
Remove from oven and let cool for ten minutes prior to serving.
50+ Quick & Easy Recipes
Inspired by Celebrity Chef
Daniel Green
Quick & easy to make
No experience needed
Includes different desserts, dinners, lunches & quick snacks!
Sign up to learn about new products and special offers