OFFICIAL COOKWARE PARTNER OF

THE 2017 WORLD FOOD CHAMPIONSHIPS

Order Today And Get FREE SHIPPING On All Orders!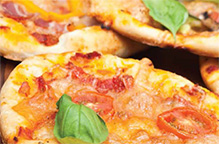 Skillet Pizza Dough
¾ cup lukewarm water
1 tablespoon active dry yeast
1 teaspoon sugar
2 ¼ cups flour
1 teaspoon salt
3 tablespoons extra-virgin olive oil
Instructions
In a small bowl, stir together the lukewarm water, yeast and sugar. Let stand until foamy, 3 to 5 minutes.
Using a standing mixer, mix the flour and salt at low speed. Mix in the yeast mixture and olive oil until a shaggy dough forms. Change to the dough hook attachment and mix at medium speed until smooth, about 6 minutes.
Transfer the dough to a greased, large mixing bowl, turning to coat; cover with plastic wrap and let rise until doubled in size, 45 minutes to 1 hour. Punch down the dough before using.
NOTE: For whole wheat dough, use ¾ cup whole wheat flour and 1 ½ cups all-purpose flour.
Tips to get ahead:
Prepare Skillet Pizza Dough up to 1 day in advance.
Refrigerate the covered bowl of dough and let rise overnight for up to 24 hours. When ready to use, punch down the dough and allow an extra 30 minutes to 1 hour for the second rise in the skillet.
Instructions
Quarter the dough (recipe below) and shape into balls. Place on a lightly floured surface, cover with a kitchen towel and let stand at room temperature for 30 minutes.
Heat the 9 ½" Gotham skillet over medium heat for 10 minutes (Make sure you have a lid).
Flatten 1 piece of dough, then stretch into a 9-inch round. Add 1 tbsp. extra-virgin olive oil to the skillet, tilting to coat. Carefully lay the dough in the bottom of the pan and cook for 1 ½ minutes. Using a metal spatula, flip the dough, then cover and cook until the bottom is brown, about 3 minutes. Turn the dough again and, working quickly, spread ¼ cup of the tomato sauce on top. Sprinkle with ½ cup of the cheese, top with choice of toppings, then cover and cook until the cheese melts, about 1 minute longer.
Transfer the pizza to a cutting board let sit 5 minutes to cool. Wipe out the pan and repeat with the remaining ingredients.
50+ Quick & Easy Recipes
Inspired by Celebrity Chef
Daniel Green
Quick & easy to make
No experience needed
Includes different desserts, dinners, lunches & quick snacks!