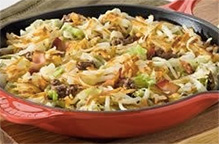 30 Minute Irish Dinner
2 tablespoons vegetable oil
1 (20 ounce) package Simply Potatoes® Shredded Hash Browns
2 slices bacon, cut into small pieces
1 pound lean ground beef
½ cup chopped onion
4 cups chopped cabbage
1 cup beef broth
¼ cup apple juice or water
1 teaspoon salt
Instructions
In 11" Gotham skillet heat oil over medium-high heat. Cook Simply Potatoes Shredded Hash Browns according to package directions.
Meanwhile, cook bacon, ground beef and onion in the 12 ½" skillet until meat is browned. Drain grease. Add cabbage, beef broth, apple juice and salt.
Reduce heat to low and cook until cabbage is just tender. Stir in cooked hash browns. Serve immediately.
50+ Quick & Easy Recipes
Inspired by Celebrity Chef
Daniel Green
Quick & easy to make
No experience needed
Includes different desserts, dinners, lunches & quick snacks!