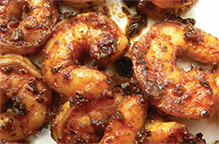 Jalapeño Jamaican Jerk Shrimp
¼ cup light beer
¼ cup chopped roma tomatoes
1 tablespoon diced green pepper
1 tablespoon diced red onion
2 teaspoons roughly chopped garlic
2 teaspoons finely jalapeño
1 tablespoon chopped green onion (scallions)
½ tablespoon chopped thyme
1 teaspoon Jamaican Jerk spice
1 tablespoon chopped cilantro
12 raw shrimp, peeled, deveined, tails on
4 tablespoons butter, melted
8-10 thyme sprigs
Instructions
Preheat oven to 500ºF.
Place beer, spices and herbs (up to cilantro) in the 9 ½" Gotham skillet, then add the shrimp. Pour the melted butter over the top of the shrimp and top with thyme sprigs.
Slice the loaf of bread into 1-inch thick slices and wrap in tin foil.
Place skillet of shrimp and wrapped bread on the middle rack of the oven.
Bake 5 – 7 minutes or until shrimp is done.
Remove shrimp and bread from oven and serve with bread.
50+ Quick & Easy Recipes
Inspired by Celebrity Chef
Daniel Green
Quick & easy to make
No experience needed
Includes different desserts, dinners, lunches & quick snacks!