OFFICIAL COOKWARE PARTNER OF

THE 2017 WORLD FOOD CHAMPIONSHIPS

Order Today And Get FREE SHIPPING On All Orders!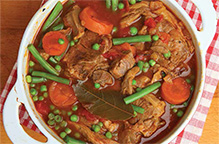 Easy Farmhouse Lamb Stew with Vegetables
2 lbs. lamb, stewing pieces
(neck or shank or other meaty bits)
2 lbs. vegetables, mixed (onion must
be used, and add chopped potato or
sweet potato, carrots, celery and peas)
5 tablespoons flour
3 teaspoons seasoning salt
14 oz. can of chopped tomatoes
1 teaspoon sugar
1 tablespoon Worcestershire sauce
4 garlic cloves, chopped and crushed
½ teaspoon Tabasco sauce
½ cup dry red wine
Instructions
Cut vegetables into bite size pieces.
Heat Gotham large stock pot. Heat 1 tablespoon olive oil. Put the flour in a small bowl and dip each piece of meat in the flour to lightly coat.
Add small batches to the pan to sear. When one batch has sizzled on both sides, push them to the side of the pot with a long-handled fork.
Add the seasoning salt to the meat, and stir. Heat should be quite high at this stage. Add vegetables.
Add tomatoes, ½ tsp. sugar, Worcestershire sauce, garlic.
The heat is still high at this stage. Add the red wine (You could sub with beef broth, but red wine is really preferable).
Bring to boil, turn heat to lowest setting, cover. Let stew simmer for at least 45 minutes to 1 hour.
If the veggies have rendered a lot of liquid, uncover and cook until sauce has reduced. Add more wine if dry and leave covered.
Stew until the meat is tender; all-together about 1 ¼ – 2 hours (depending on the meat you use).
50+ Quick & Easy Recipes
Inspired by Celebrity Chef
Daniel Green
Quick & easy to make
No experience needed
Includes different desserts, dinners, lunches & quick snacks!