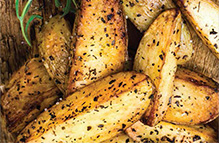 Lemon Greek Potatoes
1 cup extra-virgin olive oil (preferably Greek)
6 tablespoons fresh lemon juice
1 large shallot, quartered
2 cloves garlic, chopped
4 sprigs oregano, leaves only (or 1 tablespoon dried)
¼ cup fresh parsley leaves, plus
1 tablespoon chopped, for serving
Kosher salt and freshly ground pepper
3 pounds large russet potatoes, cut lengthwise into wedges
Instructions
Preheat the oven to 425°F. Put the olive oil, lemon juice, shallot, garlic, oregano and parsley in a food processor; add 1 teaspoon salt, and pepper to taste. Puree until mostly smooth.
Toss the potatoes with ½ cup of the prepared vinaigrette in a large bowl and spread in a single layer in 12 ½" skillet (reserve the remaining vinaigrette). Roast the potatoes until tender and golden, turning occasionally, 45 minutes to 1 hour.
Transfer the potatoes to a platter and drizzle with some of the remaining vinaigrette. Season with salt and garnish with the chopped parsley. Serve with the remaining vinaigrette on the side.
50+ Quick & Easy Recipes
Inspired by Celebrity Chef
Daniel Green
Quick & easy to make
No experience needed
Includes different desserts, dinners, lunches & quick snacks!