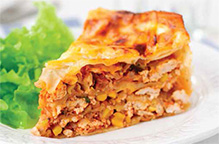 Hot Mexicali Tortilla Pie
1 lb. ground beef
1-2 tablespoons taco seasoning to taste
½ cup beef broth
2 tablespoons canola or olive oil
1 onion, peeled and diced
4 cloves garlic, peeled and minced
½ cup chopped scallions
1 tablespoon all-purpose flour
1 cup milk
1 cup enchilada sauce
1 can (approx. 16 oz.) refried beans
2 cups shredded cheddar or Mexican blend cheese
5 flour tortillas (10")
salt & pepper to taste
Instructions
Preheat oven to 350°F.
In 12 ½" skillet, brown beef with the taco seasoning and broth. Remove from the pan into a dish and set aside.
Add one tablespoon of the oil to the pan and sauté the onion and garlic until translucent. Remove the mixture from the pan and into the dish with the cooked beef.
Add the remaining tablespoon of oil to the pan along with the flour. On medium heat, whisk in the milk and continue cooking until the sauce is slightly thickened. Return the beef and onion mixtures to the pan with the milk sauce, add the scallions and season to taste. Remove the mixture to another dish, wipe the pan with a paper towel.
In a separate bowl, combine enchilada sauce with the refried beans. Place one tortilla into the cast iron pan, top with half the beef mixture, then the second tortilla, half the bean mixture, the third tortilla, the remaining beef mixture, the fourth tortilla, the remaining bean mixture and then the fifth tortilla. Top with the cheese.
Bake in a pre-heated oven for 30 – 45 minutes or until the cheese is melted and lightly golden brown. Makes approximately 8 servings.
50+ Quick & Easy Recipes
Inspired by Celebrity Chef
Daniel Green
Quick & easy to make
No experience needed
Includes different desserts, dinners, lunches & quick snacks!