OFFICIAL COOKWARE PARTNER OF

THE 2017 WORLD FOOD CHAMPIONSHIPS

Order Today And Get FREE SHIPPING On All Orders!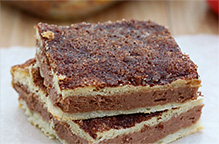 Mexican Chocolate Monkey Cake
2 tablespoons butter
4 tablespoons brown sugar
4 medium bananas, sliced in half lengthwise
1 cup all-purpose flour
1/3 cup cocoa powder
1 tsp. baking powder
1 tsp. baking soda
1 teaspoon ground cinnamon
1/3 cup chocolate chips
½ cup egg whites
1 cup brown sugar
1 cup nonfat plain yogurt
2 tsp. pure vanilla extract
Instructions
Preheat oven to 350°F. Heat a 12" oven proof Gotham skillet over medium and melt butter with brown sugar. Add bananas and sauté until sugar becomes a syrup and remove from heat. Arrange bananas neatly in pan and set aside.
In a large bowl, mix flour, cocoa powder, baking powder, baking soda, cinnamon and chocolate chips. In another bowl, combine egg whites, brown sugar, yogurt and vanilla.
Add dry ingredients to wet ingredients and mix until just combined. Pour into skillet over sautéed bananas. Bake for 20-25 minutes, or until middle of cake springs back when touched.
Remove from oven and cool slightly. Invert onto a large plate and cut into 16 slices.
50+ Quick & Easy Recipes
Inspired by Celebrity Chef
Daniel Green
Quick & easy to make
No experience needed
Includes different desserts, dinners, lunches & quick snacks!
Sign up to learn about new products and special offers
STEP 2:
Review your order
Item
Quantity
Price
P&H
State Tax:
Estimated Order Total