OFFICIAL COOKWARE PARTNER OF

THE 2017 WORLD FOOD CHAMPIONSHIPS

Order Today And Get FREE SHIPPING On All Orders!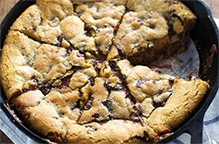 Salted Caramel Chocolate Monster Cookie
17 tablespoons butter, divided (total of 2 sticks of butter + 1 tablespoon)
1 cup granulated sugar
½ cup packed brown sugar
2 teaspoons vanilla
2 tablespoons real maple syrup
2 eggs
2 ¾ cup flour
1 teaspoon baking soda
½ teaspoon salt
1 cup chocolate chunks (dark works best)
½ cup milk chocolate chips
½ cup caramels or caramel bits
3 tablespoons heavy whipping cream
coarse sea salt to taste
Instructions
Preheat the oven to 350°F. Soften 9 tablespoons butter in the microwave for 30 seconds or until partially melted. Soften the remaining 8 tablespoons for 10 seconds or until you can make an indent with your finger.
Mix the butter and sugar together with an electric mixer until creamed. Add the vanilla and maple syrup and mix again until smooth. Add the eggs; beat slowly until mixed. Add the flour, baking soda, and salt in small batches. Mix until a smooth dough forms. The dough should feel dry to the touch - if it sticks to your hands, add a few more tablespoons of flour. Stir in the chocolate chips and chocolate chunks.
Melt the caramel pieces and heavy cream in the microwave for 2 minutes. Stir well until melted and smooth.
Press half of the dough mixture into the 9 ½" inch Gotham skillet. Pour the caramel over the dough and smooth with a spoon. Cover with another layer of cookie dough. Cover with lid or aluminum foil. Bake for 15 minutes, remove lid or foil and cook another 10 minutes.
Remove from oven, sprinkle with sea salt, and allow to rest for at least one hour in order for the pieces to hold their shape when cut.
50+ Quick & Easy Recipes
Inspired by Celebrity Chef
Daniel Green
Quick & easy to make
No experience needed
Includes different desserts, dinners, lunches & quick snacks!
Sign up to learn about new products and special offers
STEP 2:
Review your order
Item
Quantity
Price
P&H
State Tax:
Estimated Order Total