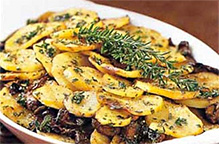 Mushroom Au Gratin Hot Dip
2 pounds mushrooms, Cremini or button
2 cups cheese, Swiss, grated
2 teaspoons butter
2 teaspoons olive oil
1 teaspoon garlic powder
½ cup bread crumbs, Italian herb flavored
½ cup Parmesan cheese, grated
1/3 cup vegetable broth, reduced sodium
1 tablespoon Worcestershire sauce
1 tablespoon Dijon mustard
½ teaspoon pepper, black, ground
Instructions
Clean mushrooms, trim stems, and slice.
Heat 11" Gotham skillet over medium high heat.
Add olive oil and butter and melt. Add mushrooms and brown them on both sides for about 5-7 mins.
Add vegetable broth and simmer for 2-3 minutes. Add bread crumbs and remaining ingredients (reserving ¾ cup of the Swiss cheese for topping). Mix well.
Coat a casserole dish (9 by 13 inches) with cooking spray. Pour mushrooms into dish and top with remaining cheese. Bake on 375ºF for 10 minutes until cheese is melted.
50+ Quick & Easy Recipes
Inspired by Celebrity Chef
Daniel Green
Quick & easy to make
No experience needed
Includes different desserts, dinners, lunches & quick snacks!