OFFICIAL COOKWARE PARTNER OF

THE 2017 WORLD FOOD CHAMPIONSHIPS

Order Today And Get FREE SHIPPING On All Orders!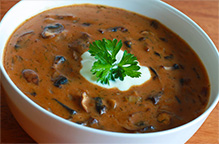 Hungarian Mushroom Soup
4 tablespoons unsalted butter
2 cups chopped onions
1 pound fresh mushrooms, sliced
2 teaspoons dried dill weed
1 tablespoon paprika
1 tablespoon soy sauce
2 cups chicken broth
1 cup milk
3 tablespoons all-purpose flour
1 teaspoon salt
ground black pepper to taste
2 teaspoons lemon juice
¼ cup chopped fresh parsley
½ cup sour cream
Instructions
Melt the butter in a large Gotham saucepan over medium heat. Sauté the onions in the butter for 5 minutes. Add the mushrooms and sauté for 5 more minutes. Stir in the dill, paprika, soy sauce and broth. Reduce heat to low, cover, and simmer for 15 minutes.
In a separate small bowl, whisk the milk and flour together. Pour this into the soup and stir well to blend. Cover and simmer for 15 more minutes, stirring occasionally.
Finally, stir in the salt, ground black pepper, lemon juice, parsley and sour cream. Mix together and allow to heat through over low heat, about 3 to 5 minutes. Do not boil. Serve immediately.
50+ Quick & Easy Recipes
Inspired by Celebrity Chef
Daniel Green
Quick & easy to make
No experience needed
Includes different desserts, dinners, lunches & quick snacks!
Sign up to learn about new products and special offers
STEP 2:
Review your order
Item
Quantity
Price
P&H
State Tax:
Estimated Order Total