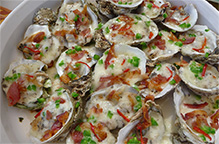 Holiday Morning Oyster Bake
1 pint shucked oysters, picked through for shells
2 tablespoons minced onion
½ stick (4 tablespoons) butter
8 eggs
¼ cup beer
½ teaspoon kosher salt, optional
2 teaspoons garlic powder
1 tablespoon hot pepper sauce
1 cup shredded Swiss cheese
6 slices bacon, cooked
2 tablespoons chopped fresh parsley leaves
1 tomato, diced
Instructions
Drain and pat oysters dry. In 12 ½" Gotham skillet, sauté onions in butter until translucent, about 5 minutes. Add oysters and cook until edges curl, about 30 seconds. Remove from heat.
In a bowl, whisk together eggs, beer, salt, garlic powder and hot sauce. Pour egg mixture over oysters and cook on low, stirring until eggs are almost set.
Sprinkle shredded cheese on top and cook until eggs are set, about 15 minutes.
Crumble bacon on top and add chopped parsley and diced tomatoes before serving. Season with salt, if desired.
50+ Quick & Easy Recipes
Inspired by Celebrity Chef
Daniel Green
Quick & easy to make
No experience needed
Includes different desserts, dinners, lunches & quick snacks!