OFFICIAL COOKWARE PARTNER OF

THE 2017 WORLD FOOD CHAMPIONSHIPS

Order Today And Get FREE SHIPPING On All Orders!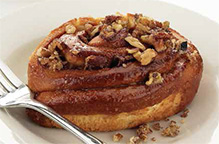 Cranberry-Pecan Cinnamon Rolls
1 (26.4-oz.) package frozen biscuits
1 (6-oz.) package dried cranberries
all-purpose flour
¼ cup butter, softened
¾ cup firmly packed brown sugar
1 teaspoon ground cinnamon
½ cup chopped pecans, toasted
1 cup powdered sugar
3 tablespoons milk
½ teaspoon vanilla extract
Instructions
Arrange frozen biscuits, with sides touching, in 3 rows of 4 biscuits on a lightly floured surface. Let stand 30 to 45 minutes or until biscuits are thawed but still cool to the touch.
Sprinkle thawed biscuits lightly with flour. Press biscuit edges together, and pat to form a 10" x 12" rectangle of dough; spread evenly with softened butter. Stir together brown sugar and cinnamon; sprinkle evenly over butter. Sprinkle cranberries and pecans evenly over brown sugar mixture.
Roll up, starting at one long end; cut into 12 (1" thick) slices. Place rolls into the 11" Gotham skillet.
Bake at 375°F for 35 to 40 minutes or until center rolls are golden brown and done; cool slightly.
Stir together 1 cup powdered sugar, 3 tbsp. milk, and ½ tsp. vanilla extract; drizzle evenly over rolls.
50+ Quick & Easy Recipes
Inspired by Celebrity Chef
Daniel Green
Quick & easy to make
No experience needed
Includes different desserts, dinners, lunches & quick snacks!
Sign up to learn about new products and special offers
STEP 2:
Review your order
Item
Quantity
Price
P&H
State Tax:
Estimated Order Total