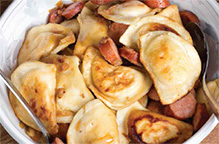 Polish Sausage and Pirogies
20 ounces frozen pirogies
¼ cup butter
½ head cabbage, sliced
1 onion, halved and thinly sliced
salt and ground black pepper to taste
12 ounces kielbasa sausage, cut into ¼-inch slices
1 cup beef broth or beer
Instructions
Bring a large shallow pot of water to a boil and drop in frozen pirogies. Boil over medium heat until pirogies float to the top, about 5 minutes; drain and set aside.
Melt butter in the 11" Gotham skillet over medium-high heat; cook and stir cabbage and onion until cabbage is wilted, 8 to 10 minutes. Sprinkle with salt and black pepper.
Stir in kielbasa pieces; cook until sausage is heated through, about 5 minutes.
Gently lay pirogies into the skillet and move sausage mixture aside to allow pirogies to cook on the surface of the hot skillet until they puff up and brown slightly on the bottom, about 20 minutes. Pour in broth and reduce heat to medium-low; cover and simmer until cabbage is tender, about 10 to 15 minutes.
50+ Quick & Easy Recipes
Inspired by Celebrity Chef
Daniel Green
Quick & easy to make
No experience needed
Includes different desserts, dinners, lunches & quick snacks!