OFFICIAL COOKWARE PARTNER OF

THE 2017 WORLD FOOD CHAMPIONSHIPS

Order Today And Get FREE SHIPPING On All Orders!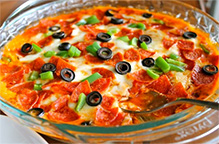 Party Hot Pizza Dip
8 oz. cream cheese
½ c. sour cream
1 tsp. oregano
1/8 tsp. garlic
1/8 tsp. red pepper (optional)
½ c. pizza sauce
½ c. chopped pepperoni
½ c. chopped green onion
¼ c. green peppers
½ c. shredded Mozzarella cheese
Instructions
Preheat oven to 400°F.
Use the 11" Gotham skillet. Mix with electric mixer, cream cheese and sour cream, garlic, red pepper and oregano. Spread evenly in the pan.
Spread pizza sauce over the top.
Sprinkle pepperoni, onions and green pepper over pizza sauce.
Cover and bake at 400°F for 5 minutes. Remove and sprinkle Mozzarella cheese on top. Bake again for 1 ½ minutes.
50+ Quick & Easy Recipes
Inspired by Celebrity Chef
Daniel Green
Quick & easy to make
No experience needed
Includes different desserts, dinners, lunches & quick snacks!
Sign up to learn about new products and special offers
STEP 2:
Review your order
Item
Quantity
Price
P&H
State Tax:
Estimated Order Total