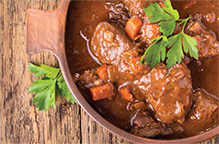 Pot Roast in Cabernet
1 tablespoon unsalted butter
2 tablespoons olive oil
3 lbs. trimmed beef flatiron steak or chuck, cut into 8 pieces
freshly ground black pepper and salt
1 pkg. Lipton Beefy onion soup mix
1 tablespoon finely chopped garlic
1 tablespoon all-purpose flour
2 cups of Cabernet wine
2 bay leaves
20 cremini mushrooms or button (opt.)
3 large carrots, cut into 1" pieces
chopped fresh parsley, for garnish
Instructions
Preheat the oven to 300°F. In a large Gotham Saucepan, melt the butter in 1 tablespoon of the olive oil. Arrange the meat in the pan in a single layer and season with salt and pepper. Cook over med high heat, turning occasionally, until browned on all sides, 8 minutes.
Remove from heat and add all ingredients, sprinkle with Beefy Onion soup mix.
Cover the casserole and transfer it to the oven. Cook the stew for 3 ½ hours, until the meat is very tender.
Serve with crusty bread.
50+ Quick & Easy Recipes
Inspired by Celebrity Chef
Daniel Green
Quick & easy to make
No experience needed
Includes different desserts, dinners, lunches & quick snacks!