OFFICIAL COOKWARE PARTNER OF

THE 2017 WORLD FOOD CHAMPIONSHIPS

Order Today And Get FREE SHIPPING On All Orders!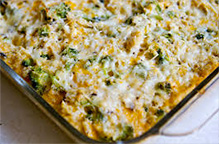 Quinoa and Broccoli Cheese Casserole
1 cup quinoa
1 head broccoli, cut into florets and finely chopped
2 tablespoon olive oil, divided
1/3 cup Panko breadcrumbs
3 boneless, skinless thin-sliced chicken breasts
Kosher salt and ground black pepper, to taste
2 tablespoons unsalted butter
2 tablespoons all-purpose flour
2 cups 2% milk
1 ½ cups shredded Cheddar cheese, divided
1/3 cup Greek yogurt
Instructions
Preheat oven to 350°F.
In a large saucepan of 2 cups water, cook quinoa according to package instructions. Within the last 5 minutes of cooking time, add broccoli on top and steam until cooked through.
Heat 1 tablespoon olive in 11" skillet over medium high heat. Add Panko and cook, stirring, until browned and toasted, about 3 minutes; set aside.
Heat remaining 1 tablespoon olive oil in the skillet. Season chicken breasts with salt and pepper, to taste. Add to skillet and cook, flipping once, until cooked through, about 3–4 minutes per side. Let cool before dicing into bite-size pieces; set aside.
Melt butter in the 12 ½" skillet over medium heat. Whisk in flour until lightly browned, about 1 minute. Gradually whisk in milk, and cook, whisking constantly, until slightly thickened, about 3–4 minutes. Stir in quinoa, broccoli, chicken, 1 cup cheese and Greek yogurt; season with salt and pepper, to taste. Sprinkle with remaining ½ cup cheese. Place into oven and bake until cheese has melted, about 5 minutes.
50+ Quick & Easy Recipes
Inspired by Celebrity Chef
Daniel Green
Quick & easy to make
No experience needed
Includes different desserts, dinners, lunches & quick snacks!
Sign up to learn about new products and special offers
STEP 2:
Review your order
Item
Quantity
Price
P&H
State Tax:
Estimated Order Total