OFFICIAL COOKWARE PARTNER OF

THE 2017 WORLD FOOD CHAMPIONSHIPS

Order Today And Get FREE SHIPPING On All Orders!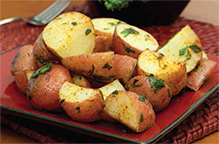 Savory Roasted Red Potatoes For Two
2 medium red potatoes, cooked and cut into ½-inch chunks
2 tablespoons canola oil
½ teaspoon dried parsley flakes
¼ to ½ teaspoon garlic powder
¼ to ½ teaspoon onion powder
¼ to ½ teaspoon paprika
Instructions
In the 9" skillet, heat oil over medium heat. Add potatoes; cook for 10 minutes, stirring occasionally.
Stir in remaining ingredients; cook and stir 5 minutes longer or until potatoes are browned and tender. Yield: 2 servings.
50+ Quick & Easy Recipes
Inspired by Celebrity Chef
Daniel Green
Quick & easy to make
No experience needed
Includes different desserts, dinners, lunches & quick snacks!
Sign up to learn about new products and special offers
STEP 2:
Review your order
Item
Quantity
Price
P&H
State Tax:
Estimated Order Total