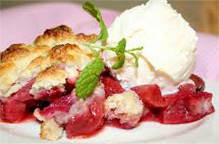 Rhubarb Betty with Strawberry Ice Cream
1 cup Panko breadcrumbs (Japanese style)
¼ cup plus 2 tablespoons packed
light brown sugar
2/3 cup plus ¼ cup granulated sugar
1 ½ teaspoons ground cinnamon
½ teaspoon ground allspice
¼ teaspoon ground ginger
pinch of ground clove
5 stalks rhubarb, cut into
1-inch pieces (about 4 cups)
1 teaspoon fresh lemon juice
½ cup roughly chopped almonds with skins
4 tablespoons cold unsalted butter, cut into
small pieces, plus more for the Gotham skillet
strawberry ice cream, for serving
Instructions
Preheat 9 ½" Gotham skillet to medium low. Whisk the panko, brown sugar, ¼ cup granulated sugar, the cinnamon, allspice, ginger and cloves in a medium bowl until combined. In another bowl, toss the rhubarb with the remaining 2/3 cup granulated sugar and the lemon juice to coat.
Sprinkle 3 tablespoons of the breadcrumb mixture in the bottom of the skillet. Top with the rhubarb, then sprinkle with the remaining crumbs and the almonds. Dot with the cut-up butter.
Put the skillet on the center of a preheated 425°F oven; until the filling is bubbly and the topping is golden brown and crisp, 15 to 20 minutes. Let cool slightly, about 10 minutes. Serve warm and top with strawberry ice cream.
50+ Quick & Easy Recipes
Inspired by Celebrity Chef
Daniel Green
Quick & easy to make
No experience needed
Includes different desserts, dinners, lunches & quick snacks!