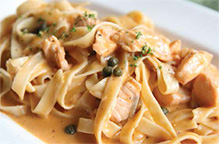 Salmon with Tarragon and Caper Cream
4 salmon pieces
1 tablespoon unsalted butter
1 tablespoon extra-virgin olive oil
salt and freshly ground pepper, to taste
3 tablespoons chopped shallot
1 tablespoon chopped fresh tarragon
½ cup heavy cream
fresh lemon juice, to taste (optional)
2 tablespoons capers
Instructions
In 12 ½" Gotham skillet, sauté over medium-high heat, melt the butter with the olive oil. When hot, add the salmon, season with salt and pepper and sauté gently, turning once, until the salmon is cooked through and opaque, about 3 minutes per side. Transfer the salmon to a warmed plate and keep warm.
Pour off any excess fat from the pan and place the pan over medium-low heat. Add the shallot and sauté, stirring, until translucent, 1 to 2 minutes. Add the tarragon, capers and cream, increase the heat to medium and stir with a wooden spoon, scraping up any browned bits from the pan bottom and blending well. Cook, stirring, until bubbling and thickened slightly, 2 to 3 minutes. Season with salt and pepper and a squeeze of lemon juice.
Return the salmon to the pan and turn each piece several times in the sauce until well coated and hot. Transfer to a warmed serving plate or individual plates and spoon the remaining sauce over the salmon. Sprinkle with tarragon for color and serve immediately.
50+ Quick & Easy Recipes
Inspired by Celebrity Chef
Daniel Green
Quick & easy to make
No experience needed
Includes different desserts, dinners, lunches & quick snacks!