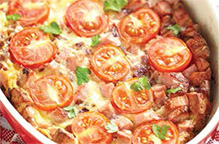 Easy Cheesy Sausage and Potato Casserole
8 ounces bulk breakfast sausage, crumbled
1 medium onion, chopped
1 medium green bell pepper, chopped
6 eggs
1 cup milk
1 tablespoon oregano
½ teaspoon salt
¼ teaspoon coarse ground black pepper
1 ½ cups shredded mozzarella cheese
1 cup crumbled feta cheese
2 plum tomatoes, seeded and chopped
1 tablespoon oil
1 package (20 ounces) refrigerated
shredded hash browns
Instructions
Cook and stir sausage in 12 ½" Gotham skillet on medium heat 5 minutes or until lightly browned. Add onion and bell pepper; cook and stir 5 minutes or until vegetables are tender. Set aside.
Beat eggs in large bowl with wire whisk. Add milk, oregano, salt and pepper; mix well. Add sausage mixture, cheeses and tomatoes; mix well. Set aside.
Pour oil into same skillet, swirling to coat the pan. Spread hash browns in bottom and up sides of pan. Pour egg mixture over potatoes. Cover. Cook on medium heat 10 to 15 minutes or until eggs are set.
50+ Quick & Easy Recipes
Inspired by Celebrity Chef
Daniel Green
Quick & easy to make
No experience needed
Includes different desserts, dinners, lunches & quick snacks!