OFFICIAL COOKWARE PARTNER OF

THE 2017 WORLD FOOD CHAMPIONSHIPS

Order Today And Get FREE SHIPPING On All Orders!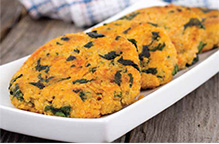 Sweet Potato Crispy Cakes
4 medium-size sweet potatoes
2 eggs, lightly beaten
½ cup flour
2 red jalapeño peppers, chopped
(remove seeds to cut heat if desired)
1 ½ teaspoons salt
½ cup thinly sliced green onions, divided
lime wedges
Instructions
Pierce 1 sweet potato several times with a fork. Place on a microwave-safe plate; cover with damp paper towels. Microwave at HIGH 8 to 10 minutes or until tender. Let stand 5 minutes. Peel potato, and place in a medium bowl; mash with a fork. Peel remaining sweet potatoes, and grate, using the large holes of a box grater. Stir grated potatoes into mashed potato.
Gently stir in eggs, next 3 ingredients, and ¼ cup green onions just until combined.
Heat 12 ½" skillet over medium heat. Carefully drop mixture by tablespoonful, in batches, onto skillet, pressing lightly to flatten. Cook 5 to 6 minutes on each side or until golden brown. Place sweet potato cakes on a wire rack over an aluminum foil-lined baking sheet. Keep warm in a 200°F oven up to 30 minutes. Sprinkle with remaining ¼ cup green onions just before serving. Serve with lime wedges.
50+ Quick & Easy Recipes
Inspired by Celebrity Chef
Daniel Green
Quick & easy to make
No experience needed
Includes different desserts, dinners, lunches & quick snacks!
Sign up to learn about new products and special offers
STEP 2:
Review your order
Item
Quantity
Price
P&H
State Tax:
Estimated Order Total