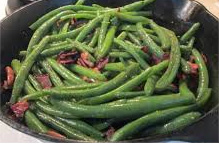 Uncle Jim's Green Beans
3 to 5 slices bacon
1 small onion, chopped
1 can (29 ounces) green beans, drained
1 can (14.5 ounces) diced tomatoes, with liquid
½ tsp. salt (optional)
¼ tsp. ground, black pepper (optional)
Instructions
Line a plate with paper towels.
Place the bacon in a 11" skillet over medium-high heat and cook until cooked through and crispy, 5 to 7 minutes. Transfer the cooked bacon to the paper towel-lined plate and carefully pour off all but 2 tablespoons of the bacon grease from the skillet (saving the rest for another use).
Add the onion to the bacon grease in the skillet and sauté until tender, 3 to 4 minutes. Stir in the green beans, tomatoes and salt and pepper, if desired, and reduce the temperature to low. Crumble the bacon into the skillet, stir to combine. Cover and simmer until heated through, 15 minutes. Serve hot.
50+ Quick & Easy Recipes
Inspired by Celebrity Chef
Daniel Green
Quick & easy to make
No experience needed
Includes different desserts, dinners, lunches & quick snacks!