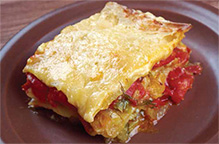 Scumptious Vegetable Lasagna
2 tablespoons extra virgin olive oil
1 yellow onion, chopped fine
4 garlic cloves, minced
1 (28-oz.) can diced tomatoes
Salt and pepper
10 curly-edged lasagna noodles,
broken into 2-inch lengths
1 small zucchini, cut into ½ inch chunks
1 small yellow squash, cut into ½ inch chunks
¼ cup shredded fresh basil
1 cup part skim ricotta cheese
1 cup freshly grated Parmesan cheese
1/8 tsp. nutmeg
1 tablespoon dried parsley or 2 tablespoons fresh
1 tablespoon sugar
Instructions
Mix together ricotta cheese, ½ of Parmesan cheese, parsley, nutmeg and sugar. Set aside.
Heat oil in the 11" Gotham skillet over medium heat until shimmering. Add onion and cook until softened, about 3 minutes. Add garlic and cook until fragrant, about 30 seconds. Drain tomatoes into a 2-cup liquid measure. Add water to tomato liquid to make 2 cups. Add tomato/water mixture and 1 teaspoon salt to skillet.
Scatter noodles into the skillet, layer tomatoes over the noodles and bring to a simmer. Reduce the heat to medium and cook, covered, stirring occasionally (so the noodles won't stick!) for about 10 minutes.
Stir in zucchini and yellow squash, cook, stirring now and then, until noodles and squash are tender, about 8 minutes. Add basil and half of the ricotta mixture and other half of the Parmesan cheese to the noodles, stirring until the sauce is creamy. Dollop remaining ricotta cheese mixture over the noodles, season with salt and pepper, and sprinkle with extra Parmesan cheese.
50+ Quick & Easy Recipes
Inspired by Celebrity Chef
Daniel Green
Quick & easy to make
No experience needed
Includes different desserts, dinners, lunches & quick snacks!