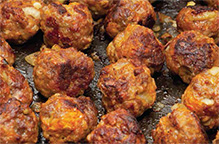 Zesty Meatball Appetizers
Meatball Ingredients:
1 egg, beaten
¾ cup soft bread crumbs (about 1 slice of bread)
¼ cup chili sauce
½ tsp. salt
½ tsp. instant minced onion
1/8 tsp. garlic powder
¾ lb. ground beef
Sauce Ingredients:
2 12 oz. jars Heinz chili sauce
1 32 oz. jar grape jelly
Instructions
In 9 ½" Gotham skillet heat thoroughly the chili sauce and jelly. Put in crockpot or chafing dish set to low.
In a bowl, combine egg, crumbs, chili sauce, salt, instant minced onion and garlic powder. Thoroughly mix in ground beef. Shape mixture into about 30 small meatballs.
In 12 ½" Gotham skillet, brown meatballs slowly on all sides. Continue cooking until meatballs are done, gently turning meatballs to brown on all sides.
Cook all meatballs and place in sauce in the crockpot or chafing dish to keep warm.
50+ Quick & Easy Recipes
Inspired by Celebrity Chef
Daniel Green
Quick & easy to make
No experience needed
Includes different desserts, dinners, lunches & quick snacks!